Fall Communications Assistant
Internship (Unpaid)
Part Time
Salary: For credit hours
Minimum Education Required: N/A
Minimum Experience Required: 0-3 Years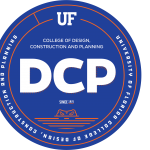 Website UF College of Design, Construction and Planning
The University of Florida College of Design, Construction and Planning is seeking an intern to work closely with the college's Communications Team to enhance the name recognition and marketing efforts through written communications. The intern will write for web, social, newsletters and other college communications. In addition, they will have the opportunity to develop skills with event photography and video.
The work schedule is extremely flexible to coincide with class schedules and the demands that come with being a student at a Top-5 public university.
Interns will attend a strategic planning session each week where assignments and deadlines will be received. During the week, interns will work on assignments on their own, submitting completed assignments to the college's Public Relations Specialist. Interns may meet with the advancement team, faculty, students or others, as needed to write stories, etc.
Minimum Experience: Strong writing skills and ability to work independently. Strong interpersonal skills. Proficiency in AP Style. Experience with Microsoft Office, Adobe InDesign and Photoshop.
Application Instructions:
Candidates interested in applying should submit their resume and 2-3 writing samples by Aug. 28 to Kyle Niblett at kniblett@dcp.ufl.edu.
Listing Expires: August 12, 2022
Major(s): Journalism, Public Relations