Social Media Intern for Gator football legend – Danny Wuerffel
Internship (Paid)
Minimum Education Required: N/A
Minimum Experience Required: 0-3 Years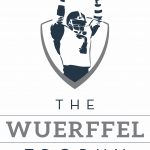 Website Wuerffel Trophy
Calling all Gator football fans, and social media rock stars!
UF Football Ring of Honor legend and Heisman Trophy winner, Danny Wuerffel, is seeking an intern for Fall semester 2022 to help support the Wuerffel Trophy's social media accounts on Instagram, Facebook and Twitter. Honoring Danny's commitment to serving communities for 20+ years, The Wuerffel Trophy is College Football's Premier Award for Community Service, and is awarded annually on the ESPN College Football Awards Show in December.
Seeking UF J-School students or other social media influencers to assist with posts and engagement from August through the ESPN College Football Awards Show in early December.
Great opportunity to build experience and a fantastic resume line supporting a College Football Hall of Famer to grow social media reach, engagement and followership. See wuerffeltrophy.org for more details.
Applications accepted until August 5, 2022.
Come join the fun with a Florida Gator legend!
Application Instructions:
Please submit the following information via email to jg@wuerffelfoundation.org: (1) Name, email and cell phone (2) Major and projected graduation date (3) Applicable courses or social media projects (4) List of personal social media accounts (5) List of any organizational social media accounts managed in recent years (6) Resume and (7) Three to five sentences why you would be the best fit for this internship. Applications accepted until August 5, 2022.
Listing Expires: August 24, 2022
Major(s): Advertising, Journalism, Media Production, Management, and Technology, Public Relations